Details
Starts: Wednesday, August 26th 11:00am
9300 S. Sangamon St.
Chicago, IL 60620



Auction Type: Online Auction

Auction Highlights: WIDE SELECTION OF: PACKAGING EQUIPMENT * CANNING AND FILLING MACHINES * FOOD PROCESSING EQUIPMENT * FIBERGLASS TANKS * FORKLIFTS * MATERIAL HANDLING EQUIPMENT * PALLET RACKS* MUCH MORE!

Categories: Industrial & Manufacturing, Restaurant Equipment
Online Bidding
REGISTER AND BID ONLINE FOR THIS AUCTION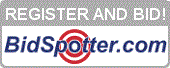 click here to begin
This is an online only auction.
No in-person bidding is available for this sale.
Contact Information
Company: Plant & Machinery, Inc.
Address: P.O. Box 19100, Houston, TX 77224-9100
Phone: 713-691-4401
Fax: 713-672-7905
Description
ONLINE ONLY AUCTION - BIDS START CLOSING AT 11:00 A.M. ON WEDNESDAY, AUGUST 26TH!

WIDE SELECTION OF: PACKAGING EQUIPMENT * CANNING AND FILLING MACHINES * FOOD PROCESSING EQUIPMENT * FIBERGLASS TANKS * FORKLIFTS * MATERIAL HANDLING EQUIPMENT * PALLET RACKS* MUCH MORE!
Inspection
Inspection will be Tuesday, August 25th from 9:00 a.m. to 4:00 p.m.