Details
Starts: Thursday, October 29th 10:00am
101 West Bayshore Road
Anahuac, TX 77514



Auction Type: Online Auction

Auction Highlights: COURT ORDERED ONLINE AUCTION OF SELF-PROPELLED WORK BARGES, SPUD BARGES, TUG BOATS, CRAWLER CRANES, JET SLED, CRANE ATTACHMENTS, MORE!

Categories: Industrial & Manufacturing
Online Bidding
REGISTER AND BID ONLINE FOR THIS AUCTION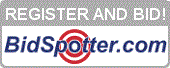 click here to begin
This is an online only auction.
No in-person bidding is available for this sale.
Contact Information
Company: Plant & Machinery, Inc.
Address: P.O. Box 19100, Houston, TX 77224-9100
Phone: 713-691-4401
Fax: 713-672-7905
Description
Featuring: (2) TOWING VESSELS: M/V BAR 325, 44.1' length, 18' breadth, 5.5' depth * M/V MISS KATE, 41.3' length, 19.9' breadth, 5' depth.
(3) BARGES: BARGE HMS 60 SPUD BARGE, 172' length, 34' breadth * KS 393 SPUD BARGE, 102' length, X 39' breadth * EXXON 883 DECK BARGE
(3) CRAWLER CRANES: LINK-BELT MODEL 418A * AMERICAN MODEL 5299C * NORTHWEST MODEL 6
MARINE ACCESSORIES: Anchors * Barge loading ramp
CONSTRUCTION EQUIP. & ACCESSORIES: Jet sled * Pile driver * Pilings
MISC. EQUIP.: Miller Trailblazer 302 * Port. pipe bevellers * Welding tables.

Inspection
Inspection will be Tuesday, October 27th and Wednesday, October 28th from 9:00 a.m. to 4:00 p.m. and other times by appointment.
Directions
FROM HOUSTON, TEXAS: Proceed east on I-10 towards Beaumont. After you cross over the Trinity River bridge, proceed ahead to Exit 810 for Anahuac/FM 563. Turn right (south) onto FM563 and proceed 14.5 miles to the Oak Island area. The road will dead end a the "T" at Bay Shore Road. Turn left onto Bay Shore Road and proceed 2/10 mile to a 3-way stop. Turn right and go 1/10 mile to the fork in the road. You will see a sign for Job Beason Park and Boat Ramp. Follow that road to the left and at the end on right is the Kiva yard. Watch for auction signs.