Details
Starts: Thursday, November 5th 10:00am
2501 Boonslick Drive
Boonville, MO 65233



Auction Type: Public Auction

Auction Highlights: CONDENSER COIL AND WRAPPER MANUFACTURING FACILITY Featuring: (2) OAK FIN PRESSES, (5) BURR OAK HAIRPIN BENDERS; (2) OAK VERTICAL EXPANDERS, (2) CONDENSER COIL BRAZING OVENS, (2) DETROIT TOOL CONDENSER WRAPPER PRESS SYSTEMS, WIDE ARRAY OF PLANT SUPPORT EQUIPMENT, MATERIAL HANDLING EQUIPMENT, MRO ITEMS, AND MUCH, MUCH MORE!

Categories: Industrial & Manufacturing
Online Bidding
BID ONLINE OR IN PERSON FOR THIS AUCTION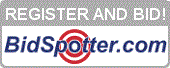 Contact Information
Company: Plant & Machinery, Inc.
Address: P.O. Box 19100, Houston, TX 77224-9100
Phone: 713-691-4401
Fax: 713-672-7905
Description
(2) OAK FIN PRESSES, (5) BURR OAK HAIRPIN BENDERS; (2) OAK VERTICAL EXPANDERS, (2) CONDENSER COIL BRAZING OVENS, (2) DETROIT TOOL CONDENSER WRAPPER PRESS SYSTEMS, WIDE ARRAY OF PLANT SUPPORT EQUIPMENT, MATERIAL HANDLING EQUIPMENT, MRO ITEMS, AND MUCH, MUCH MORE!
Inspection
Inspection will be Wednesday, November 4th from 9:00 a.m. to 4:00 p.m. and the morning of the sale.
Directions
FROM LAMBERT-SAINT LOUIS INTERNATIONAL AIRPORT: Exit airport using Lambert International Blvd. Merge onto I-70 W and proceed approx. 133 miles. Take the MO-B exit 103 toward Boonville/Main St/Bunceton. Turn right onto B Hwy/MO-B. Take the 3trd left onto Logans Lake Rd and proceed approx. .7 mile. Take the 1st right onto Boonslick Dr. Proceed to auction site on the left, 2501 Boonslick Dr, Boonville, MO 65233. Watch for auction signs.