Details
Starts: Wednesday, April 27th 10:00am
6951 W. Little York Road
Houston, TX 77040



Auction Type: Public Auction

Auction Highlights: CNC & MANUAL MACHINE TOOLS, PLANT SUPPORT EQUIPMENT, MATERIAL HANDLING, MUCH MORE!

Categories: Industrial & Manufacturing
Online Bidding
BID ONLINE OR IN PERSON FOR THIS AUCTION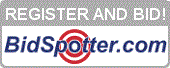 Contact Information
Company: Plant & Machinery, Inc.
Address: P.O. Box 19100, Houston, TX 77224-9100
Phone: 713-691-4401
Fax: 713-672-7905
Description
CNC & MANUAL MACHINE TOOLS, PLANT SUPPORT EQUIPMENT, MATERIAL HANDLING, MUCH MORE!
Inspection
Inspection will be Monday, April 25th and Tuesday, April 26th from 9:00 a.m. to 4:00 p.m. and the morning of the sale.
Directions
FROM GEORGE BUSH INT'L AIRPORT: Follow the signs out of the airport area to Beltway 8 (traveling south on JFK Blvd.). Turn right (west) onto Beltway 8 and enter the freeway. It will become the Sam Houston Toll Road as you proceed west. Travel counter clockwise around Houston on the Sam Houston Toll Road until you come to US Hwy. 290 on the west side of town. Exit onto Hwy. 290 East (toward downtown) and stay in the right hand lane. Take the very next exit off of Hwy. 290 for Fairbanks North Houston Road. Turn left (north) onto Fairbanks North Houston Road. Turn right (east) onto West Little York Road. and proceed approx. 2 miles. The auction site will be on your right. Watch for auction signs.