Details
Starts: Thursday, July 28th 10:00am
3515 NE 33RD TERRACE
KANSAS CITY, MO 64117



Auction Type: Online Auction

Auction Highlights: FEATURING: Vertical Rotary Surface Grinder; CNC Horizontal Machining Centers; CNC Vertical Machining Centers; 5-Axis CNC Lathe; Vertical Jib Borer; Gap Bed Engine Lathes; Chucker; Automatic Hyd. Surface Grinder; Hand Feed Surface Grinder; Vertical Turret Milling Machines;

Categories: Industrial & Manufacturing
Online Bidding
REGISTER AND BID ONLINE FOR THIS AUCTION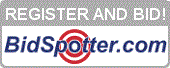 This is an online only auction.
No in-person bidding is available for this sale.
Contact Information
Company: Plant & Machinery, Inc.
Address: P.O. Box 19100, Houston, TX 77224-9100
Phone: 713-691-4401
Fax: 713-672-7905
Description
FEATURING: Vertical Rotary Surface Grinder; CNC Horizontal Machining Centers; CNC Vertical Machining Centers; 5-Axis CNC Lathe; Vertical Jib Borer; Gap Bed Engine Lathes; Chucker; Automatic Hyd. Surface Grinder; Hand Feed Surface Grinder; Vertical Turret Milling Machines;
Inspection
Inspection will be Wednesday, July 27th from 9:00 a.m. to 4:00 p.m.