Details
Starts: Thursday, June 15th 10:00am
4514 Brittmoore Road
Houston, TX 77041



Auction Type: Public Auction

Auction Highlights: ELECTRICAL, HYDRAULIC & AUTOMATION CONTRACTOR TO THE OILFIELD & GAS INDUSTRY Featuring: Greenlee Conduit Bender Model 855 GX Intelli Bender; 40 T Edwards Hydraulic Iron Worker; 2012 4,650 Lb. Komatsu Forklift; 1500 Chevy Pickup Truck; North Star Compressor; Electrical Rig Control Panels; Lincoln 250 Ranger Portable Welder w/Trailer; Transformers; Racking w/Contents; Drilling Rig Simulation Chair; Large Electric Motors; Miller Welders; 5,000 Lb. Datsun Forklift; 2011 4,800 Lb. Komatsu Forklift; 13,700 Lb. Yale Forklift; Ridgid Pipe Threader; More!

Categories: Industrial & Manufacturing
Online Bidding
BID ONLINE OR IN PERSON FOR THIS AUCTION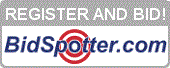 Contact Information
Company: Plant & Machinery, Inc.
Address: P.O. Box 19100, Houston, TX 77224-9100
Phone: 713-691-4401
Fax: 713-672-7905
Description
Featuring: Greenlee Conduit Bender Model 855 GX Intelli Bender; 40 T Edwards Hydraulic Iron Worker; 2012 4,650 Lb. Komatsu Forklift; 1500 Chevy Pickup Truck; North Star Compressor; Electrical Rig Control Panels; Lincoln 250 Ranger Portable Welder w/Trailer; Transformers; Racking w/Contents; Drilling Rig Simulation Chair; Large Electric Motors; Miller Welders; 5,000 Lb. Datsun Forklift; 2011 4,800 Lb. Komatsu Forklift; 13,700 Lb. Yale Forklift; Ridgid Pipe Threader; More!


ALL ITEMS MUST BE REMOVED BY FRIDAY, JUNE 29TH AT 4:30 P.M. CENTRAL
Inspection
Inspection will be Wednesday, June 14th from 9:00 a.m. to 3:30 p.m. and the morning of the sale.
Auction Item Removal
ALL ITEMS MUST BE REMOVED BY FRIDAY, JUNE 29TH AT 4:30 P.M. CENTRAL